Are you a media start-up or scale-up, working on next generation media solutions? Excited to integrate your technology in a real-life setting, but only missing the funds and network to make it happen? STADIEM enables start-ups and scale-ups to integrate their solutions live on air – and provides them the resources to do so. STADIEM has launched its first call to join their unique piloting programme, with the deadline for applications set for March 31.
STADIEM includes a 4-stage programme, which will have a total duration of 14 months and a budget of 1,93M€. The piloting programme consists of the following stages, from identifying corporate partners to executing public pilots in live production environments:

At the same time, STADIEM lets you become part of a mission to tackle today's most prominent media challenges. From helping discover treasures in a content archive, to empowering journalists to bring news at lightning speed. In addition, STADIEM also invites applicants to submit innovative and surprising visions as "moonshots".
"The key to the project is 'bridging innovative players in the European media sector'", as Carmela Asero (European Broadcasting Union) explains, but also "shaping the future of Next Generation Media with international partners and enabling future-minded, innovative founders to grow" as Christoph Hüning (Next Media Accelerator) and Monique Calisti (Martel Innovate) unilaterally express.
The Open Call webinar
On February 22, STADIEM has streamed a first webinar on the open call – offering an overview on the project's objectives and a guide for Open Call applicants.
Einar Kaslegard (Media City Bergen) conducted the first part of the webinar, speaking about the focus area and programme: "STADIEM values are in many ways at the heart of Media City Bergen – working together to drive development and innovation."
Violeta Vasileva (F6S) who follows Open Call applications directly and who answered the audience's questions in this regard shares the same enthusiasm, "As a global founder community we love to help startups and find the right opportunities for them".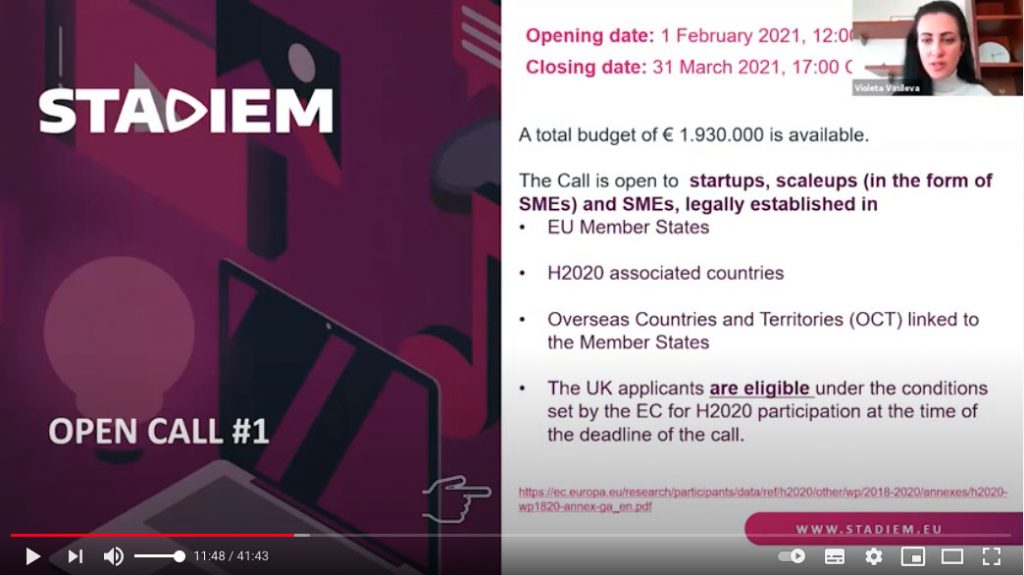 The webinar was repeated on March 10, with Project Coordinator Mike Matton (VRT) offering an extended overview of the project for those who did not have the chance to attend on February 22: "we are excited to make Europe a global leader in media innovation and look forward to not only seize but also create opportunities for media innovation that can have a real impact, both locally and internationally."
For all information and tips to apply, please visit the Open Call 1 and related FAQs pages of STADIEM's website.
For any Open Call-specific inquiries: [email protected]