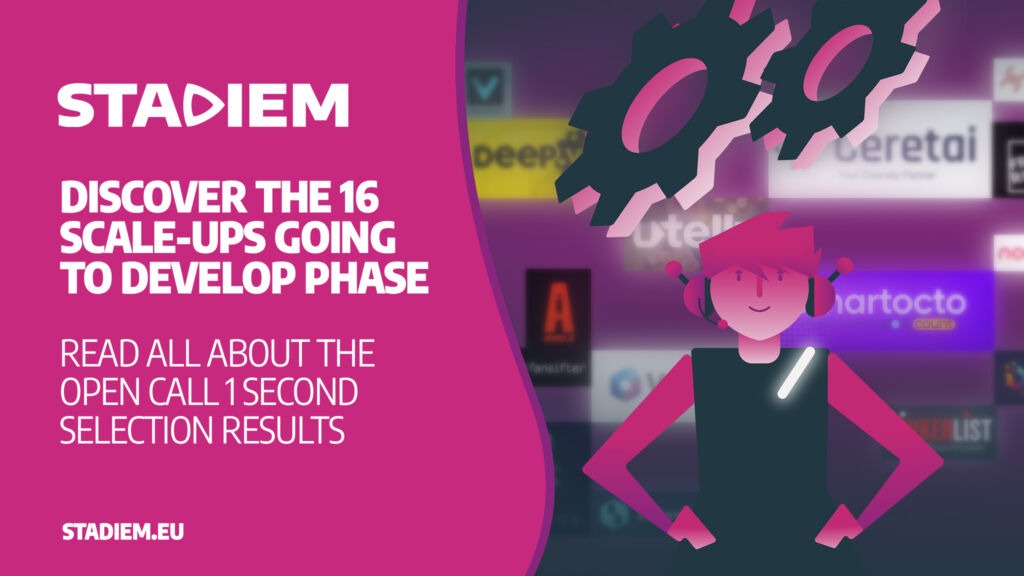 STADIEM's acceleration programme has kicked off its Develop phase! After an exciting Match phase, 16 scale-ups have now been selected to build solutions for today's largest media challenges. In the coming 6 months, they will join forces with international media organisations to collaborate on topics such as accessibility, diversity and disinformation. Learn more about their projects and Next Generation Media solutions here.
Content creation & distribution
Zazu – Formerly known as Cutnut – a story content creation tool for production and omnichannel distribution. Together with Roularta Media Group, Zazu will develop a software development kit for story content automation and mobile integration possibilities.
On-Hertz – A hybrid (on-premises/cloud) distributed production platform (audio/video) that integrates within the production backbone of RTBF.
Frameright – A complete Image Display Control solution with metadata, AI and a browser-based user interface. In partnership with the Frankfurter Allgemeine Zeitung, Frameright will suit its solution to journalism and media needs.
Tinkerlist.tv – A cloud-based rundown and scripting tool enabling remote and paperless production. Collaborating with VRT and DPG Media, Tinkerlist.tv will implement an online and/or breaking news set.
Data/AI/ML/Synthetic Media
Ceretai – Automated diversity and equality analysis of media and entertainment through the web-based interface Diversity Dashboard, which will be implemented following the partnership with VRT.
Smartocto – A notification system that, based on business and journalistic models and the data of corporate lead VRT, will predict and alert newsrooms on the needed course of action.
Web64 – Real-time analytics of currently trending news, and historical data on how media habits are changing. Web64 will monitor different formats of misinformative and politically charged content with VRT.
aiconix.ai – An AI-based platform allowing clients to access and interact with huge amounts of digital media content. Together with Russmedia, the Austrian Broadcasting Corporation, the Austrian Research Institute for Artificial Intelligence of the Austrian Society for Cybernetic Studies, the Austrian Parliament and Maximilian Breuer, they will develop a language model for better dialect recognition.
Datavillage – A digital decentralisation solution allowing consumers worldwide to build and control their own 'digital twins' based on personal behavioural data. In partnership with RTBF and VRT, Datavillage will adapt content recommendation system for OTT platforms.
Utelly – AI and metadata-based solution powering a unified API with advanced search and recommendations for the media and entertainment industry. Belgian cross media discovery, OTT, and editorial content are the focus of its collaboration with Roularta Media Group.
Trensition – A platform automating trend and future research and providing detailed insights tailored to specific business contexts. Trensition will develop a strategic analytics platform based on Roularta Media Group's targets.
FanSifter – Smart machine learning models to identify the most valuable fan segments and activate audiences with high return on investment. In partnership with Marathon Music Group/Marathon Artists, they will work on a multi-stage integration and deployment of FanSifter's collaborative customer data platform.
Visualyst – Solutions to help the film and TV industry internationalise or localise video content through comprehensive compliance review automation and collaboration tools. Together with Telia and PBS, Visualyst will foster brand detection/background textual information on video.
Monetization
Nowtilus – A dynamic Ad-Insertion technology solution for video content, which, in partnership with Teutocast, will provide personalised content and new revenues creation.
FilmChain – A platform that collects revenues and pays production stakeholders in an efficient, transparent and automatic manner. Working with Alamode Filmdistribution, they will develop a modular, scalable solution for the automated generation and dissemination of royalty reports.
Archiving
The Chainless – AI tools to extract information from visual data. It will implement a Knowledge Graphs for archive browsing in partnership with ProSiebenSat1 Tech Solutions.
Follow us on social media or subscribe to our newsletter to stay updated about STADIEM's activities!