text-to-speech, artificial intelligence, smart data
"Thanks to the STADIEM programme, we are able to develop a framework for creating high-quality custom voices by publishers themselves, which was highly requested by our customers for a long time. This will significantly help BotTalk scale up and acquire new customers." – Dr. Andrey Esaulov, founder and CEO BotTalk
What's the issue?
The lack of good quality language models for European languages and dialects, i.e.: a Flemish language, several dialects in the Norwegian language, specific intonations in the Estonian language, and regional dialectic differences for German, French, and Spanish. The monopoly on text-to-speech generation is currently held by big cloud providers: Microsoft, IBM, Amazon, and Google. This leads to big technical dependence on those companies when publishers decide to audify their texts using text-to-speech technology.
"Our team has been developing and improving our existing text-to-speech SaaS platform since 2019. During this period, we tested several development methodologies and established the ones that work for our clients (news publishers and media houses) and our product best." – Dr. Andrey Esaulov, founder and CEO BotTalk
BotTalk's solution
BotTalk will develop a framework for creating high-quality custom voices. Publishers and media houses will be able to create their own individual unique voices in local languages and dialects – without additional technical knowledge of machine learning, language modelling and text-to-speech generation, or enormous computing costs. Furthermore, the publishing houses that created their own branded text-to-speech voices can license the usage of these voices, following the established business model – charging for the number of characters (i.e.: €20/million characters). This will generate an additional revenue stream for the media house.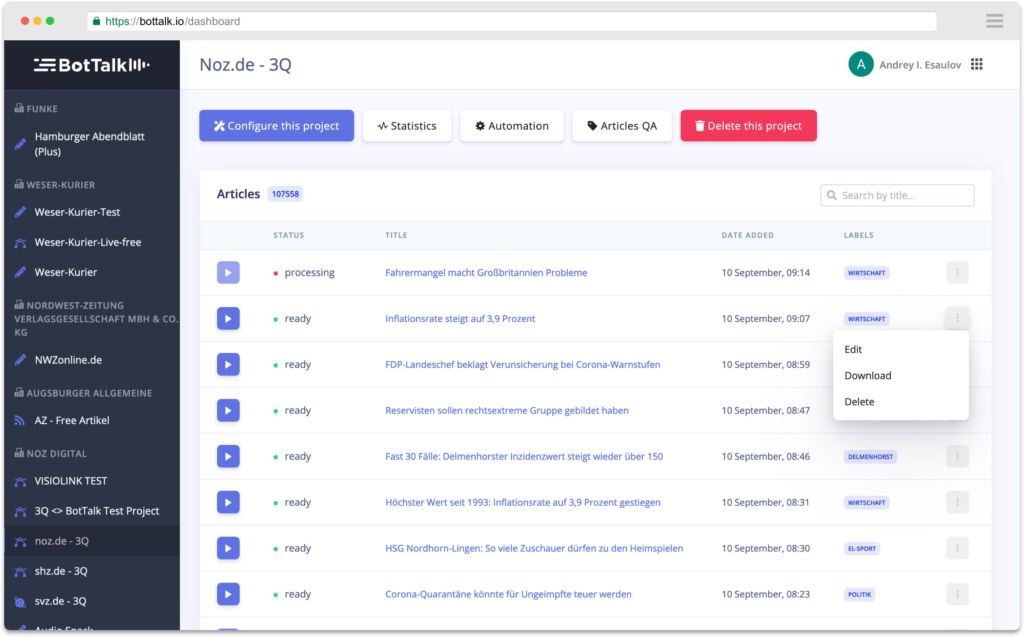 BotTalk's corporate partners in STADIEM
Funke, NOZ, t-online, VRT, Mediafin and Roularta
"Audio is one of the established pillars of FUNKE's daily journalistic business. The objective of the project is to create a custom voice for FUNKE Mediengruppe which can be used for various Text-to-Speech applications." – Jana Suilmann, Head of Audio, Funke Mediengruppe
"We produce more than 120 editorial pieces every day. An accepted audio function is highly dependent on the trust of users. That means: The better the quality, the higher the acceptance of this function. To build that trust, we believe that a custom voice is key. We are convinced that the proposed solution will drive the trust in media, the acceptance of a newly established audio function and create a totally new level of accessibility of new media." – Sven Scheffler, COO Ströer Content Group and Managing Director of Ströer Digital Publishing GmbH (t-online)
"VRT is looking for a high-quality, highly customisable voice, which maps perfectly with the ambitions of BotTalk to create a custom voice, and the experience they have with fine tuning current voices to perfection." – Tatjana Vandenplas, Head of Innovation Development, VRT
The people behind BotTalk: Dr. Andrey Esaulov, Sophia Boysen, Igor Pechenikin
Location: Hamburg, Germany
Date of foundation: November 2019
Contact: https://bottalk.io/