What better source to hear about STADIEM's importance than the very beneficiaries of its programme? In this first half of a two-part article, we sit down with Open Call 2 Pilot phase scale-ups Scriptix, Television.AI, and einbliq.io to get their specific perspective on the STADIEM journey to empower their respective innovative media solutions.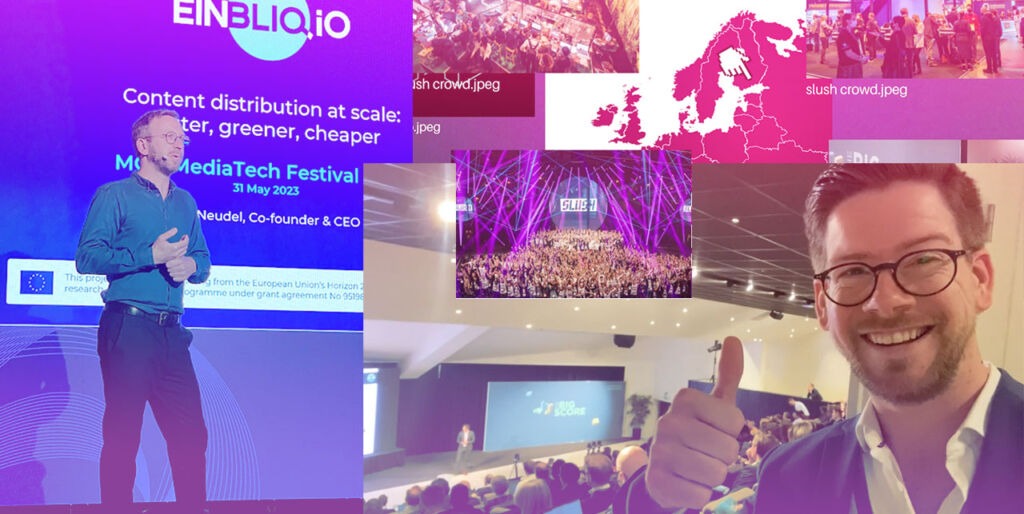 Let's start from the basics: what's your start-up/scale-up's solution, in a nutshell?
Scriptix: At Scriptix we are on a mission to make content accessible to everybody. To that end we develop speech recognition models and related services such as machine translation. With our platform users can automatically generate subtitles and transcripts and translate them enabling them to make content better accessible to people who are deaf or hard of hearing and/or to increase engagement of their content.
einbliq.io: We help streaming providers and broadcasters to better understand and optimise their content distribution. This includes optimisation for cost, reliability, quality and energy down to the local level. Going beyond existing streaming analytics solutions, einbliq.io captures live data and actively optimises the delivery for each individual user session – with only minimal integration efforts.
Television.AI: We empower editorial teams to be more efficient when producing news videos through our solution, by leveraging advanced Media AI capabilities. We do this by processing the written news story and video footage with our AI models and suggest the edit (along with a synthetic voice-over) using our generative AI models. This saves time, reduces the amount of people required per produced video, reduces communication overhead within the editorial teams and overall saves costs.
What would be the impact of your STADIEM pilot on the corporate/sector level?
Scriptix: Our pilot under the wings of the STADIEM program revolves around automatically training our generic speech recognition models. This means customers can customize our models themselves putting domain adaptability at the customer's fingertips. On average this can result in 15% more accurate results with speech recognition, greatly reducing the time spent on making corrections to transcripts and/or subtitles. At the same time it solves the issue for Scriptix where prior to STADIEM our ML-engineers had to customize models manually taking up a lot of their time.
einbliq.io: In the STADIEM pilots we looked at two selected application domains of our solution. In the first part, we enabled audience researchers to gain a detailed understanding of linear TV use, uncovering local behaviour differences. This brings data granularity and the possibility of real-time actions known from online services to that of linear TV broadcasting. Even under all competition, linear TV remains to be a key pillar for broadcasters. Our solution helps to innovate in that space. In the second part of the pilots, we focussed on sustainability aspects by capturing energy consumption along the content distribution chain for each individual user session. einbliq.io provides a crucial data foundation to reduce the overall energy use for content distribution in a combined perspective on broadcast and streaming – a major concern for media companies.
Television.AI: Our pilot is set up very similarly to a real editorial environment. From the capacity we reserved on the Cloud to the integration into our corporate partner's infrastructure, who integrated our solution right into the editor's work environment, Adobe Premiere Pro. The pilot shows, in a realistic environment, how we can positively impact an editorial newsroom's bandwidth (number of videos produced per hour) and efficiency (money spent per video produced).
What is the main advantage of STADIEM's programme to you?
Scriptix: The advantage of STADIEM's program to Scriptix is actually threefold: exposure, funds and technological advancement. Thanks to the STADIEM program Scriptix has been able to reach a larger audience through events and socials. Additionally STADIEM grants up to 150k in equity-free funding, which enabled Scriptix to develop a brand new feature that will help our customers and ourselves at the same time.
einbliq.io: Convincing large media companies to step into pilots with start-ups is a challenging process for both sides. Decision and sales cycles for B2B solutions are long, especially when the solution is to be trialled in business-critical areas. STADIEM really helped to create the trust and patience while bridging the delicate gap in pilot funding. We had excellent opportunities to present our approach and the pilot in front of other media companies from and around the STADIEM network.
Television.AI: We noticed two areas of impact: first, the funding allowed us to think some parts of the project broader. For us this meant being able to spend more money training models, allow more experimentation and offer more usage capacity to our STADIEM corporate partner and potential customers who try our system for the first time. Second, we were able to make great connections through the STADIEM events and other networking events (like NAB, IBC, Future Week, etc.).
Stay tuned for part 2 – Follow us on Twitter/X and LinkedIn for updates and come and meet our scale-ups in Amsterdam, at IBC 2023, from September 15 to 18!