One key asset of STADIEM is to showcase its innovators and their solutions on leading worldwide and European mediatech conferences and connect them with media corporates, investors and other innovators. IBC 2023, in Amsterdam, as a leading global conference with more than 40.000 senior media and entertainment professionals from 170 countries, represents an excellent and must-go venue.
One opportunity provided by STADIEM there this year was a dedicated pod for the whole 4-day duration of IBC, where the STADIEM innovators could make appointments with corporates and investors and show their demos. While scale-ups were generating their business leads, the STADIEM hubs and partners further connected at the pod with interested visitors coming from all corners of Europe and the USA to discover the first European accelerator program for media. Questions related to understanding the particular mechanism of the program, which sets it apart from other accelerator programs, and to the impact the supported pilot solutions had on the corporates and the sector. The answers to these questions can be found in the new STADIEM booklet, which was given to each visitor and can be downloaded here as well.
The EBU stage in the same area, instead, served as the venue for a Scale-up Showcase Event – held in the afternoon of 15th September – which revolved around pitches of STADIEM pilots' solutions einbliq.io, Television.AI, Scriptix, and Limecraft, addressing an audience of media corporates, other innovators and investors.
The first two pitches focused on solutions around subtitling and translating. Limecraft's Maarten Verwaest described how the automatic subtitling for short form content solution – that was enhanced via STADIEM – will allow broadcasters to gain important cost and efficiency benefits in the process of subtitling. Frans Olsthoorn of Scriptix, instead, highlighted that by making their solution's speech recognition models adaptable by customers, 15% more accurate results are achieved on that level, greatly reducing the time spent on making corrections to transcripts and/or subtitles.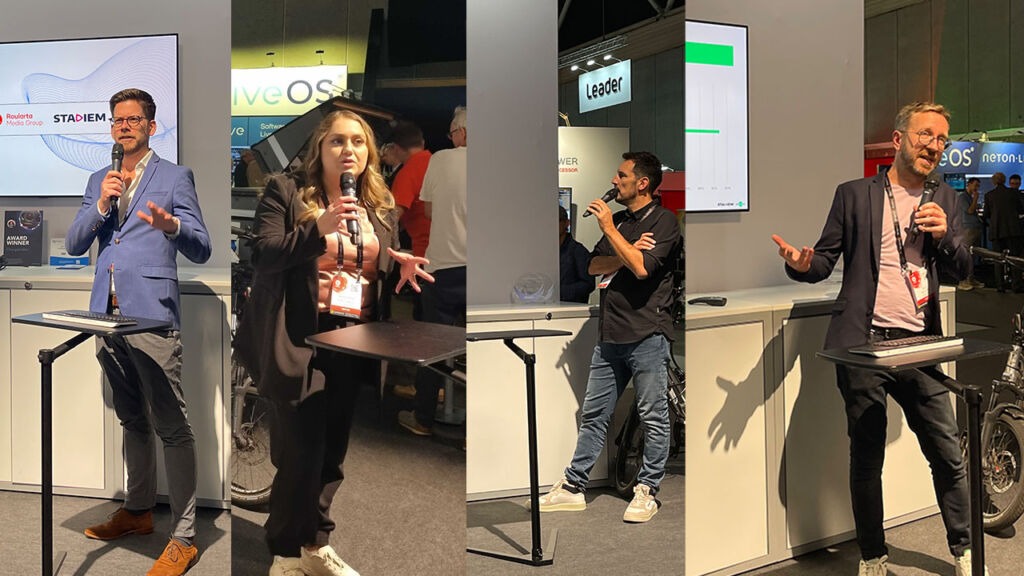 The third pitch, by Sebastian Siepe and Ralf Neudel of einbliq.io, testified how their solution enables audience researchers to get a detailed understanding of linear tv viewers and makes real-time actions, known from online services, possible for linear TV broadcasting. On top of that, einbliq.io developed a data foundation to reduce the overall energy use for content distribution in a combined perspective on broadcast and streaming.
Finally, Olcay Buyan illustrated how Television.AI's solution makes news video production for editorial rooms less costly, less time-consuming and more bandwidth- oriented (increasing the number of videos produced in an hour) by processing written news stories and video footage via AI models and suggesting editing via generative AI.
After this interesting showcase, STADIEM Advisory Board Member Delphine De Wulf, an entrepreneur in the mediatech sector from Belgium, delivered a clear statement about what she considers the main importance of the STADIEM idea: "STADIEM provides, thanks to the collaboration of 4 European innovation hubs, for scale-ups over Europe, a direct and relevant access to the right people in companies, which allows you to save valuable time. Due to its program and results, STADIEM has become a label of trust and quality, which is priceless for a scale-up when scaling and looking for further growth and business opportunities".
The event finally ended with a short official ceremony where the 4 pilots received their STADIEM award.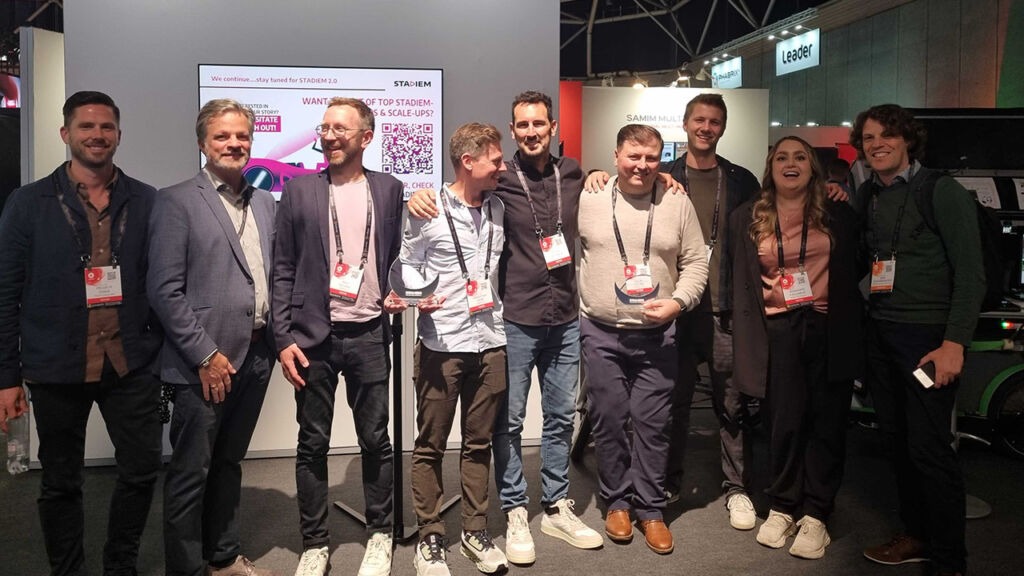 On the following day, STADIEM also took part in the Joint-Roundtable Event 'Next Generation Media: a European perspective' together with fellow ICT-44 projects Möbius, MediaVerse and COPA EUROPE and held in their shared showcase area a fruitful exchange regarding the benefits and challenges from their common European approach for Next Generation Media development. Project partners also explored the final products of each project and discussed potential alleys for further development, from their backgrounds' perspective.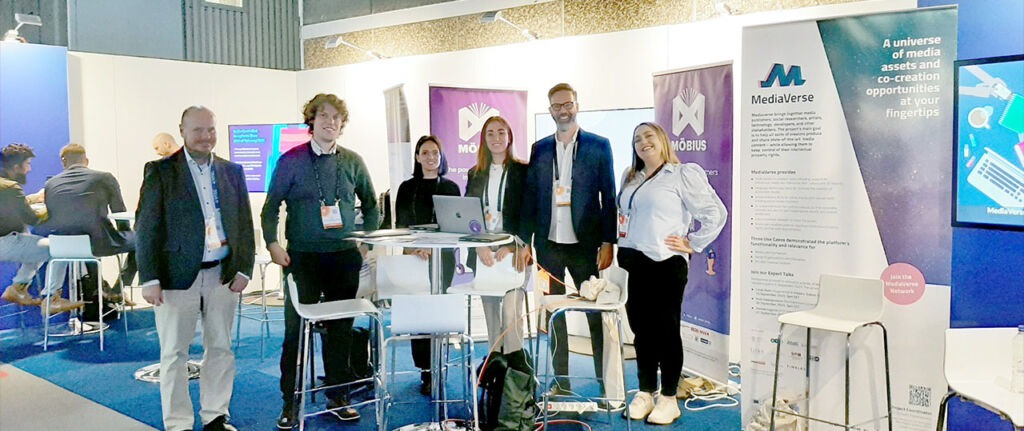 In addition to all these activities, it's worth mentioning that 3 STADIEM alumni scale-ups have been under major spotlights at IBC this year: Open Call 1's Tinkerlist picked the event to reveal their groundbreaking Cuez platform, and On-Hertz (OC1) and Media Distillery (OC2) both brought home Best of Show awards for their outstanding solutions. – Read more here: On-Hertz LinkedIn page + Media Distillery LinkedIn page.
STADIEM's incarnation as a EU-Funded project might be over, but its spirit will live on: stay tuned to our website and social media channels to find out what's next, and get in touch with our hubs if you're interested in following them in their future adventures.