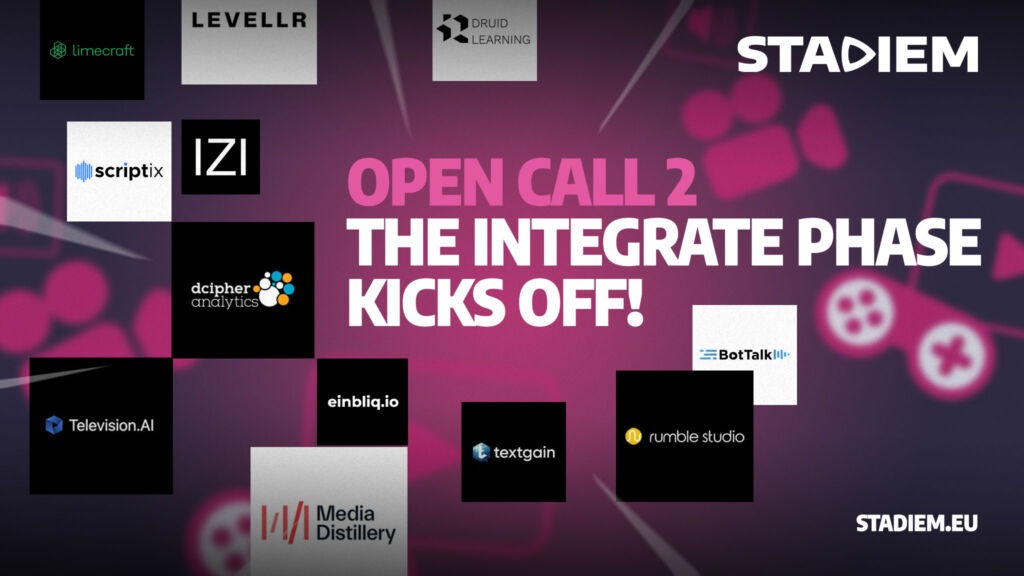 The Integrate phase for the Open Call 2 scale-ups has officially started: from the 16 that made it to the end of the Develop phase, 12 have been selected to continue the STADIEM journey.
The selected solutions will be now engaged – until April 2023 – in initiating integration and testing, or pre-pilot activities for public pilots with the respective corporate partners acquired over the previous phases, around their exciting Next Generation Media concepts. This will also include internal testing and evaluation of business processes and performance, technologies, and solutions, to bring the scale-up and corporate collaboration to the next level.

Curious to know more about the 12 scale-ups involved? Discover below who's in and what solutions they are building.
Visit the individual Integrate phase scale-up pages for additional details on the partners involved and the solutions they're working on together.
The sTART-UPS (BY FOCUS AREA)

Content verification and against disinformation
Textgain (Belgium) – Text analytics pipelines able to automatically perform user profiling, keyword extraction and opinion mining on a large scale.
Monetization
Druid Learning (Ireland) – A white-label educational content e-commerce platform designed with inclusiveness in mind, allowing publishers to control, manage and distribute their digital content directly to their end users.
Levellr (UK) – A SaaS business helping power messaging communities: a "Mailchimp for messaging" designed to enhance and support this the leading communication format by pushing simultaneously to Discord, Telegram and Slack.
Data/AI/ML/Synthetic Media
Dcipher Analytics (Sweden) – A no-code text-to-insights company with a scalable cloud-based end-to-end saas-platform, providing all the latest and best tools required to do any text analytics or automation project at once.
Limecraft (Belgium) – Limecraft's cloud-based collaboration platform 'Limecraft Flow' is used by media producers worldwide to manage their workflow, allowing them to create more content faster: built-in AI allows automation of several steps in the production process, including raw material processing, audio transcription and subtitling.
Scriptix (The Netherlands) – A full-service speech recognition provider featuring an ecosystem of (custom) speech-to-text models and additional services, aimed at enabling everybody to turn spoken word into text.
einbliq.io (Germany) – Broadcasters and OTT companies are facing ever-growing streaming costs, mainly paid to Content Delivery Networks (CDN). With an all-embracing data analytics suite, einbliq.io, helps media companies delivering excellent and quality assured streaming services at lower cost.
Media Distillery (The Netherlands) – Through AI technology, Media Distillery creates enhanced viewing experiences, enabling faster access to relevant content and optimised advertising that boosts viewer engagement.
Content creation & distribution
BotTalk (Germany) – BotTalk's technology focuses on text-to-speech, allowing publishing houses with an average output of 200 news articles a day to create 8 to 30 hours of audio daily from it.
Rumble Studio (France) – Rumble Studio lets anyone in a company create audio content (such as marketing-aimed podcasts) quickly and easily, with cutting-edge voice technology via a-synchronic interview recordings.
IZI RECORD (Spain) – IZI has created a technology that allows users to easily enhance their video content using videos from other users attending the same event. These videos will be created in seconds with an added AI layer that makes them unique for each user.
Television.AI (Germany) – AI to unlock insights from raw video footage (such as common objects, sentiments, emotions, faces, well-known people, topics, etc.) to be used for SEO, archive indexing, and even automatically create edits featuring synthetic voice over.
THE CORPORATE PARTNERS
Each of the scale-ups will collaborate with one or more corporate partners, acquired over the previous phases of STADIEM's programme. For the OC2 scale-ups, some of the partners include established European media organisations such as Roularta Media Group, VRT, Mediahuis and RBB.
Keep up to date with the progress of start-ups from both OC1 and OC2 cohorts. Subscribe to STADIEM's newsletter or follow us on social media for updates!